For a complete script, see: "You Debt Your Life" on the Transcripts Wiki
---
Roger: In a world where vomit comes out of my mouth...
---
Francine: Damn it, Roger! Take him to the hospital!
Roger: Franny, we've been over this. I can't take Stan to the hospital because then a doctor would save him. To restore the life debt, I have to save him.
Francine: This is crazy!!
Roger: Well, I think you're crazy. See? Isn't that hurtful?
Francine: You son of a bitch! I'm gonna rip your fucking throat out!!
Roger: Oh, okay. It always ends with you being a potty mouth, so I'm hanging up.
---
Snot: We gotta do something. Steve is drunk with power.
Barry: The drunker he gets, the better I look!
---
Steve: Brought down by an open microphone.
Snot: We had to do it, Steve. You were out of control.
Barry: Like my cholesterol!
Snot: Geez, Barry, you have a lot of health problems.
---
Snot: Steve, look. About yesterday...
Steve: No, you did the right thing. Just be careful doing the announcements, okay? The power of the microphone... it changes you.
---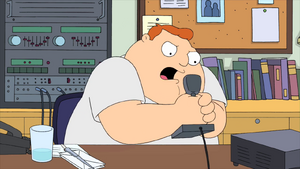 Barry: YOU FUCKING FUCKERS ARE GOING TO DO WHAT I SAY OR I WILL PUT MY GOD DAMN FOOT SO FAR UP YOUR ASSHOLE YOU WILL RUE THE DAY YOU CRAWLED OUT OF YOUR MOTHERS TWAT!!!
Principal Lewis: Barry!
Barry: [crying] I made a swear!
---
Principal Lewis: [realizing he has been broadcast talking about sex with minors] Oh, fuck me.
Community content is available under
CC-BY-SA
unless otherwise noted.