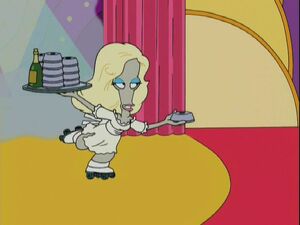 "Xanadu" is the title song from the album Xanadu, the soundtrack to the 1980 film of the same name.
When Roger gets a job on a cruise ship where the Smith's are taking their vacation in "The Vacation Goo", Roger appears as Olivia Newton-John and sings her hit Xanadu with ad-libbed lines while serving tables.
Lyrics
Xanadu
Can't cry on cue
Now I am here
In Xanadu
(To old lady)
Here you go ma'am, I talked to the chef.
There's no cream in the soup just like you asked for.
Xanadu...
Community content is available under
CC-BY-SA
unless otherwise noted.