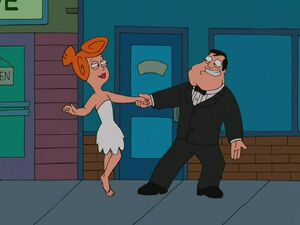 Wilma Pebble Slaghoople Flintstone is a fictional character in the television animated series The Flintstones. She was the red-headed wife of caveman Fred Flintstone, daughter of Pearl Slaghoople, mother of Pebbles Flintstone and a grandmother. Her best friends were her next door neighbors, Betty and Barney Rubble.
During the musical number "I Want A Wife (Not A Partner)" in "Stan of Arabia: Part 1", she is one of Stan's fantasy women who serve their husbands.
One of the wigs that Roger wins at the competition in "Of Ice and Men" is a replica of the hairstyle of Wilma Flintstone.
Community content is available under
CC-BY-SA
unless otherwise noted.