For a complete script, see: "Widowmaker" on the Transcripts Wiki
---
Klaus: Your brother's weird.
---
Klaus: Never cry over a whore, Steve. Never! [crying] Mama!
---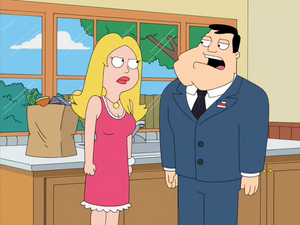 Francine: Did you tell your new best friend your deep, dark secret?
Stan: Are you kidding? She'd go straight to the CIA. They'd designate me a blabbermouth, kill me, grind me up, and mix me into the local bologna supply. Not... not that the CIA does that. You should keep eating bologna. It's good for you.
---
Community content is available under
CC-BY-SA
unless otherwise noted.