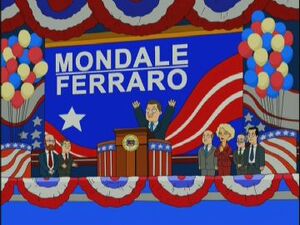 Walter Frederick Mondale is an American politician and member of the Democratic-Farmer-Labor Party. He was the 42nd Vice President of the United States (1977–81) under President Jimmy Carter, a two-term United States Senator from Minnesota, and the Democratic Party nominee for president in 1984. Later, during the administration of Democratic President Bill Clinton, he served as the United States Ambassador to Japan from 1993 to 1996.
Stan tries to use Hayley's trigger word of "rhubarb" to make her obey him in "Stan Knows Best" which he implanted when he brainwashed her in a plotted assassination attempt of Walter Mondale. The trigger word fails to have an affect on Hayley, but Steve is seen walking in the background with a sniper rifle.
Stan finds out that he altered the past in "The Best Christmas Story Never", resulting in no assassination attempt by John Hinckley Jr. and costing Ronald Reagan the 1984 Presidential election to Walter Mondale who promptly surrenders the US to the Soviet Union. Stan finds out that he has to make the assassination attempt when he fails to impress Hinckley with Jodie Foster in HIS version of Taxi Driver.
Community content is available under
CC-BY-SA
unless otherwise noted.