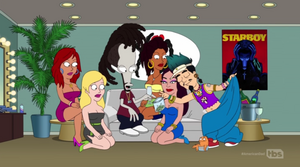 Vu is Roger's drug dealer and part of his entourage when he poses as The Weeknd in "A Starboy is Born".
After stunts such as driving his car into a casino while high on the drugs provided by Vu, Roger sets out to treat Klaus and the rest of his entourage to an island for a private music festival. Roger's flight ends up crashing on a volcanic island and most of his entourage is killed, although Vu and Klaus float to safety on a raft made from Vu's pants.
Vu is voiced by Matthew Yang King.