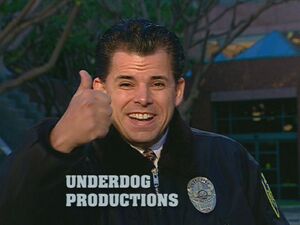 Underdog Productions is the production company formed by Seth MacFarlane, Mike Barker and Matt Weitzman to produce American Dad!. Underdog Productions is a subsidiary of Fuzzy Door Productions.
Underdog Productions title cards seen at the end of each episode feature Security Officer Peña, a former employee identified as a Venezuelan immigrant in episode commentaries, at the office building where Family Guy and American Dad! were produced.
Depending on the episode, Officer Peña waves goodnight and may say a different line:
"Bye, have a great time!"
"Bye, have a wonderful time!"
"Bye, have a beautiful time!"
"Have a great night!" (he simply gives a thumbs up in this variant).
The logo was parodied at the end of "Toy Whorey".