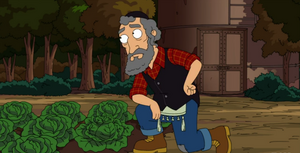 Snot's Uncle Solomon is a Jewish cabbage farmer. When Snot, Steve, Barry and Toshi volunteer to help him get his cabbage crop harvested in "License to Till", Steve borrows his tractor in an effort to become popular with the other students at Pearl Bailey High School. As Uncle Solomon is concerned about a coming rainstorm destroying his cabbage crop, Snot tries and eventually convinces Steve to return the tractor. Unfortunately, Steve ran the tractor out of gas, leaving Uncle Solomon to declare his crop and himself ruined, chasing off the boys.
Community content is available under
CC-BY-SA
unless otherwise noted.