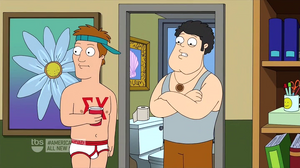 Troy is a frequent background character.
In "Big Stan on Campus", Stan recognizes him at a Groff Community College student room party, but Troy ducks out rather than acknowledge Stan's greeting. He is also at the college graduation in "Pride Before the Fail".
He also appears at Fro-YO-MAMA in "Holy Shit, Jeff's Back!", plays basketball with Roger in "Criss-Cross Applesauce: The Ballad Of Billy Jesusworth" and appears at the reading of Steve's cheerleader article at Pearl Bailey High School in "Garfield and Friends".
In "Bazooka Steve", he can be seen in the arena crowd, at the fashion show in "Mean Francine". the dog race at Langley Derby Racetrack in "Fleabiscuit", and at Stan's dance party in "Businessly Brunette".
Appearances
Community content is available under
CC-BY-SA
unless otherwise noted.