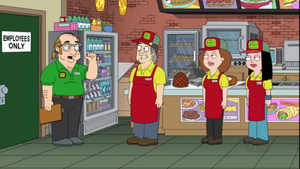 Tommy is the manager at Sub Hub where Hayley works in "The Long March".
When George, the assistant manager is found dead hanging from the ceiling fan in what Tommy refers to it as a 'suicide' and promotes Hayley due to her being hired on a Tuesday, despite Chloe being hired three years previously on a Wednesday. Hayley assigns Dino, the oldest of the employees to retrieve the body and notes that George's hands were tied, questioning the suicide claim.
Micah, a third employee is seen silently fixing sandwiches before Hayley quits when she faces the possibility of working there for the rest of her life.
Hayley and Dino have to spend a Friday night at Sub Hub in "Wild Women Do" slicing an entire year's worth of black olives.
Community content is available under
CC-BY-SA
unless otherwise noted.