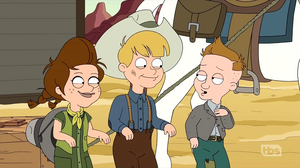 Tom, in the cowboy hat and Henry are part of a group of children that tease Francine in "West to Mexico".
Set in Consternation, AZ of 1870, Francine is a saloon dancer who hates getting her hair mussed and the kids make fun of her when it happens. Stan, falsely wanted for murdering his commanding general in the civil war comes to her aid, but is roughly beaten by the Bullock gang. After Stan is captured by Roger, a bounty hunter, the townsfolk band togther to recover Stan and stand up to the gang, but Ton teases Francine for her apparent feelings toward Stan. He is told to shut up by Henry and receives thanks from her.
Community content is available under
CC-BY-SA
unless otherwise noted.