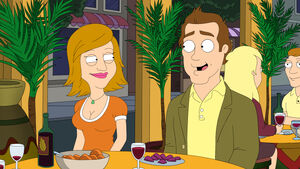 Tom & Cami are a young couple that Stan and Francine try to keep up with in "Stanny-Boy and Frantastic".
When Stan and Francine try to spice things up by going to a circus with tickets taken from Hayley. Unable to find anyone to go with, Stan sells the tickets to a young active couple who appear to be Stan and Francine's ticket out of boredom. Invited out the next evening to a late dinner, the new friends, Tom and Cami take them for a younger couple. After admitting they don't want kids to slow them down, Tom and Cami invite Stan and Francine out to an after-hours club to despite Francine's reservations. Stan however, is determined to keep up with their new friends. Returning home completely wasted at three AM, they pass out and are hungover the next morning when they are called up to go rock climbing. Despite Francine's continued reservation about keeping up with the lifestyle, Stan is determined not to lose their new friends. Worse for wear and having rejected Steve while out with their friends, Stan and Francine hatch a plot to ruin Tom and Cami's birth control so they will be stuck taking care of a child of their own. When Tom and Cami find out they are indeed pregnant, they break up. When Tom takes the break up hard, Stan and Francine plot to get them back together. When Hayley conveniently gets tickets to another circus, Stan and Francine each invite Tom and Cami to force them together. They refuse to fall for the ruse and Stan and Francine are forced to admit that they are parents and it's the greatest thing to happen to them. However, Francine also admits to the sabotaging of their birth control. Tom and Cami get back together but the friendship is over to Stan and Francine's relief.
Cami appears as an audience member during the chase across the studio ceiling in "Morning Mimosa". They can also be seen signing into the gym in "One-Woman Swole".
Tom is voiced by Anthony Michael Hall and Cami by Sarah Chalke
Community content is available under
CC-BY-SA
unless otherwise noted.