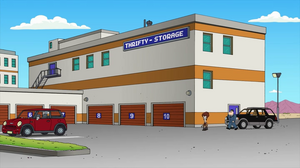 Thrifty Storage is where Roger moved his spaceship sometime after the events in "Weiner of Our Discontent" where it was kept at U-Rent Storage.
In "Naked to the Limit, One More Time", Roger is forced to call his people and ask to be picked up or risk being shot by Stan in order to keep the CIA from finding out that Roger is still alive after Jeff finds out that Roger is an alien, although he hates the thought of leaving. Using his ship's communication system, he arranges for a rendezvous at the Chimdele mountains.
Thrifty Storage becomes Dr. Kalgary's "office" as of "Roger's Baby" as he attends to the latter's childbirth of Jeff. He is also there in "Eight Fires" when Stan get a nail stuck in his head.
Community content is available under
CC-BY-SA
unless otherwise noted.