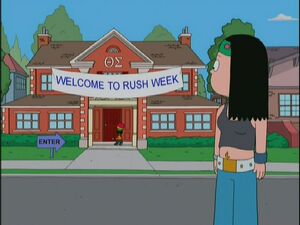 Theta Sigma (ΘΣ) is a fraternity at Groff Community College. When Roger finds out they have beer, he manages to get himself pledged in "With Friends Like Steve's". When Hayley and her friends are upset that the school dean gave the fraternity their Eskimo Studies money, Roger talks them into coming to a party where the money is spent. Hayley ends up sleeping with Tuk-Tuk, the closest she gets to studying an Eskimo. When Roger is told it's the pledge's job to clean up after the party, he quits the fraternity.
Theta Sigma is also Jessica's sorority at Rutgers University in "Spring Break-Up". When Stan develops a crush on Jessica, he heads to Rutgers to convince her to keep partying with him but she declines telling him the party is over and she needs to get back to her studies. When Stan first arrives at Rutgers, the sorority sisters ask him to take them out for Mexican food.
Tyler picks up Roger in disguise as Amber for a "Pig Party" at Theta Sigma to find the ugliest date in "Stan's Night Out".
Fraternity brothers from Theta Sigma watch the news with new co-anchor Francine Smith in "Anchorfran".
A guy wearing a Theta Sigma logo on his shirt has a front-row view of the DJ battles in "Standard Deviation".
Community content is available under
CC-BY-SA
unless otherwise noted.