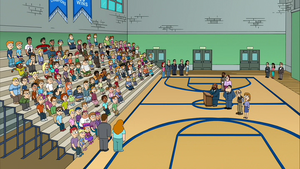 Hayley makes no appearance in this episode, but she is mentioned twice.
Despite having a significant part in the end trying to get into the Early Bird Nursery School, Susie is also seen in the front row corner of the Pearl Bailey High School gym during the restart of the wresting program. She has made other appearances at the school as well, such as in "Red October Sky".
Roger says that he wanted to kill the youngest daughter from Mrs. Doubtfire, referring to child actress Mara Wilson. Roger says she "became nothing", referring to the fact that she hasn't had a major role since 2000.
The song that plays when Stan drives to school is "Back to School" from the film of the same name, performed by Jude Cole.
The rabbi says that his "Why ask why? Try Bud Dry" reference isn't as old as the Nancy Kerrigan reference. The slogan was first used in April 1989, long before the January 6th, 1994 assault on Kerrigan.
Francine is unaware that Corey Haim died of pneumonia in 2010, as she claims he is "doing great."
The car Stan drives to school has a license plate "New Kid" despite the car being a rental.
Community content is available under
CC-BY-SA
unless otherwise noted.