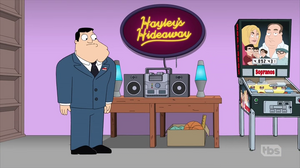 The Sopranos is an American crime drama television series revolving around the fictional character and family of mobster Tony Soprano.
While in therapy in "Widowmaker", Roger refers to Stan as Mr. Soprano of The Sopranos. Also in the same episode, Roger quotes Jennifer Melfi from The Sopranos.
When Roger and Stan go to the mall in "Moon Over Isla Island", Roger's wig and clothing match that of the character Paulie Gualtieri from The Sopranos.
In "Fartbreak Hotel", Francine wonders how did she get Paulie Walnuts' hair, referring to the character Peter Paul "Paulie Walnuts" Gualtieri.
In "Stanny-Boy and Frantastic", Francine compared herself to Aida Turturro.
When Hayley is blamed for defacing the town mural and faces the wrath of the town in "The Mural of the Story" when it was actually botched by Stan, he tries to turn the garage into "Hayley's Hideaway," complete with a boom box and a Sopranos pinball machine.
Community content is available under
CC-BY-SA
unless otherwise noted.