The Scarlett Getter
Francine accidentally leads Roger to a dangerous alien hunter.

Season: 7 Episode: 6
Total Episode Count: 121
Prod. no.: 6AJN09
First Aired: November 27, 2011

Guest Starring: Sharon Lawrence, Shannon Sharpe
Featuring: Stan Smith, Roger, Scarlett Reynolds
Also Appearing: Klaus, Francine Smith, Hayley, Steve Smith, Shannon Sharpe, Avery Bullock, Dick, Jackson, Sanders, Barry, Snot, Toshi, Lisa Silver, Lindsay Coolidge, Amy, Vince Chung, Mertz, Marshal, Berland, Nathan, Troy, Kim, Judy, Ricco
Musical Numbers: Jumper

Director: Josue Cervantes
Assistant Director: John O'Day
Writers: Matt Fusfeld, Alex Cuthbertson
Storyboarders: Dante Fabiero, Brian Mainolfi

Roger's Disguise: Police officer from "Cops and Roger"

Plot: Deputy director Bullock announces they are bringing in Shannon Sharpe, a specialist to catch their previously escaped alien. When Stan meets with Roger at Coughy's Coffee Shop to warn him, he spots Scarlett Reynolds, an old CIA boot camp crush. When Roger takes notes of her good looks and suggests he should try to take her out, Stan rudely dismisses the idea and invites Scarlett over to the house. At the house, Francine is annoyed with Stan mooning over Scarlett and heads to Roger's Place for a drink. When Francine finds out that Roger is also irritated with Stan due to Scarlett, she suggests he put on a charming persona and break up the couple. When "Dan Ansom Handsome" arrives downstairs, Scarlett appears charmed much to Stan's annoyance. Roger gives Stan an ultimatum of Scarlett or Francine, insisting that he'll have sex with the one Stan rejects. Stan reluctantly agrees not to interfere with Roger and Scarlett.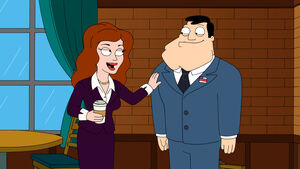 Stan reneges on his promise and attempts to break up Roger and Scarlett, further strengthening Roger's resolve to have sex with Scarlett to prove Stan wrong. Stan decides to tip off Shannon Sharpe about Roger and takes him to the ski chalet of his fantasies. Francine arrives to find movers removing Roger's stuff as Klaus tells her about Stan's plans to turn Roger over and is taking Roger's attic space. At the ski chalet, Stan and Shannon arrive to find Scarlett and Shannon reveals that Scarlett is a rival alien hunter. Scarlett shoots Shannon and starts to do the same to Stan when Francine arrives and shoots her instead. Scarlett's body rolls into the fireplace and bursts into flames, immediately becoming a pile of ashes. They find Roger tied to a bed with is skin peeled and organs removed which he mistook for rough sex. As they're leaving after reassembling Roger, Stan plants a knife on Shannon to make it appear he committed suicide which actually convinces the police he shot himself and then drew a knife as he was dying.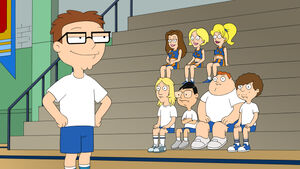 Meanwhile, when in a rush to catch the school bus, Steve accidentally grabs a pair of Hayley's panties from the drier. At school, Steve is struck with good luck, which appears to be confirmed when he plays lottery tickets with Klaus. At school during a game of dodge-ball in gym class, the panties continue to work their magic but after showering, Steve returns to his locker to find them missing and spots Snot running out the door. Almost immediately bad luck returns. Steve tries to go to Snot's house to get them back but Snot refuses to come out. Steve tells Hayley about the panties and she convinces him that the luck was all within his own power. However, she goes to Snots house where she finds him on the bathtub basking in the glow of her panties by candlelight. She beats him up and takes back her panties which she acknowledges are her lucky pair.