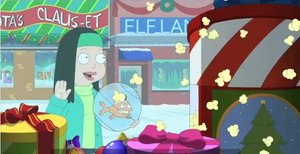 "The Perfect Gift" is sung by Hayley while window shopping with Klaus in "Minstrel Krampus". When she discovers the perfect family gift of a tin of three flavor popcorn, she finds she needs money to buy it. She finds herself back at Roger's Place to ask for a job where Roger cuts off her singing.
Lyrics
Klaus: So Hayley, you decided what to get the family for Christmas?
Hayley: Uh, no. Not yet.
It must be the perfect thing for a family so loving
A gift that's from above
Klaus: A gift that's full of love
Hayley: It's the perfect thing, can't you see
A tub of popcorns three
Caramel for mom
Salted for dad
And a hearty cheese for Steve
Roger, oh Roger
I hate to be a bother
But I need some money for a gift
This gift you see, is a tub of popcorns three
Roger: Uh, uh. Just stop. Stop. Just tell me what you want.
Community content is available under
CC-BY-SA
unless otherwise noted.