For a complete script, see: "The People vs. Martin Sugar" on the Transcripts Wiki
---
Francine: If you're going to do that in this house, you'll do it where everyone else in this family does it... in Steve's bed.
Steve: [offscreen] What?
---
Brian Griffin: Uh...do I know you? [leaves]
Stan: Stop pretending like I don't exist!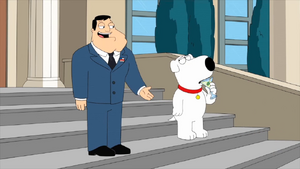 ---
Francine: Look, it's not even my rule, it's your dad's. You think I wouldn't like to spark up a doober every now and again. Just take a nice, slow, extra-careful drive.
---
Francine: Man, you got me thinking about weed now. That stuff makes me want to drink so much soda. I smoke a bone, then I drain a 2-liter of Sunkist in, like, a second. Freaks people out.
---
Stan: Where's Steve? I want to see how my fantasy basketball team's doing.
Francine: Well, he understood the fantasy part, but had no idea what basketball was. He tried to add three gryphons and an orc to your roster.
Stan: Fucking nerd.
---
Steve: What did Daddy think of my trades?
Francine: You hurt your family with what you did, Steve. You made us weaker as a unit.
Community content is available under
CC-BY-SA
unless otherwise noted.