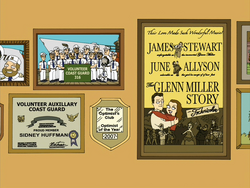 Sydney Huffman is based on Glenn Miller from the 1954 film The Glenn Miller Story, as portrayed by Jimmy Stewart. A poster for which hangs in Sydney's apartment.
Roger's woman in a green dress persona is based on Scarlett O'Hara from Gone With the Wind.
Roger identifies his revenge persona as Charles Bronson, but appears specifically as he did in The Mechanic.
Judy's comment about pizza after Roger claims to only look out for "numero uno" is a reference to the Chicago pizza chain of Uno Pizzeria & Grill, commonly known as Unos.
Judy bears similarities to Audrey from Little Shop of Horrors. Audrey was a blond shop girl who shared Judy's distinctive mannerisms and hairstyle and was escaping the clutches of a ridiculous and abusive boyfriend for a bespectacled nice guy.
Roger's vigilante mission to get revenge parodies the 1974 film Death Wish.
The C. J. Neppey clothing store parodies J. C. Penny.