For a complete script, see: "The Most Adequate Christmas Ever" on the Transcripts Wiki
---
Roger: There's a flying hooker watching you hug. Go away, hooker!
---
Steve: What did we do wrong?
Stan: Where do I start? Well, for one thing, the stockings. They're supposed to be hung with care, in hopes that St. Nicholas soon would be there. The INXS guy hung himself with more care. And the nativity scene. The Three Wise Men look like transvestites. but the mannish kind, not the attractive Asian kind you're always hoping your friends will hire for your birthday party.
---
Francine: Klaus, you got the train to work!
Klaus: [while in the locomotive] Ja! It's in my blood. My grandfather was a conductor at Auschwitz. [Francine, Hayley, and Steve gasp] No, no, no! He ran the kiddie train at the zoo. You know, it's a big town! There's other stuff there!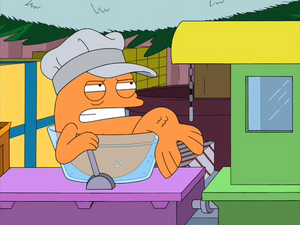 ---
God: Stan, you're holding gun to God's head. I can't even think of better metaphor than this!
---
Stan: [to Francine] Honey, just because snow is the same color as our refrigerator doesn't mean you know how it works.
---
Stan: Which one's yours?
Michelle: A chariot on my salary? Please. There's a tub of chili in my fridge I stole from the office pot-luck. I've been eating it for a year. I don't live well.
---
Stan: [to a frozen cougar] Wow, you woodland creatures take "freeze tag" very seriously.
---
Community content is available under
CC-BY-SA
unless otherwise noted.