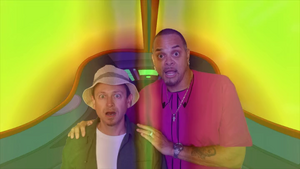 This was announced as the final original broadcast of American Dad! in FOX's Animation Domination lineup. However, due to three episodes, "Roger Passes the Bar", "A Boy Named Michael" and "Blagsnarst: A Love Story" that did not air before the end of the traditional broadcast season, they were added in September 2014 to the final FOX season.
When traveling through the wormhole Sinbad and Jeff turn into stylized characters including those of South Park, The Simpsons, The PowerPuff Girls, Santa Claus and Krampus, the Dragon Scuffle characters from "Dungeons and Wagons" and real life versions of themselves.
Roger's skeleton has bones in his arms when he turns himself inside-out, but in "American Dream Factory" he said he doesn't have any.
Stan reads a newspaper story about an ape that was taught to read, foreshadowing the ape revolution later in the episode.
Hayley, who is a vegetarian, eats the steak that Matt cooked for her.
Community content is available under
CC-BY-SA
unless otherwise noted.