The Life and Times of Stan Smith
Roger tricks Stan into believing he has had a heart attack.

Season: 12 Episode: 15
Total Episode Count: 227
Prod. no.: BAJN15
First Aired: July 24, 2017

Featuring: Stan Smith, Roger
Also Appearing: Klaus, Steve, Francine, Hayley, Jeff, Barry, Snot, Jack Smith, Betty Smith, Troy, Nut Butter, Nick, Pube Face, Salvatore "Turtle" Assante, Satan, Ronald Reagan, Adolf Hitler, Mark Few
Director: Pam Cooke, Valerie Fletcher

Writers
:
Jordan Blum
,
Parker Deay
Storyboarders
:
Michael Baylis
,
Jamie Iglehart
Roger's Disguise
: Overalls fan from "
Daesong Heavy Industries
"
Plot
: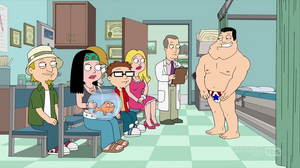 After getting a physical where he blows off any concerning news from his doctor, Stan celebrates by eating unhealthy foods and continuing to carry on his normal behavior. Francine becomes concerned and Roger volunteers to give him an electrical shock that his body can discharge to momentarily kill him and then revive him, hoping to scare him into treating his health seriously. However, after paying lip service to Francine, he returns to Roger to get more shocks, explaining that he found himself in an ethereal Blockbuster video store where he could relive parts of his life without fearing the consequences of his actions. After briefly pretending to try to live healthier, his need to experience near death becomes too strong. When Roger cuts him off, he tries to kill himself with a set of defibrillator paddles set to revive him at the proper moment. Francine discovers that Stan has been only pretending to be healthier and when she discovers him in his near-death state, falls victim to the device set to revive him and she is electrocuted, dying with him.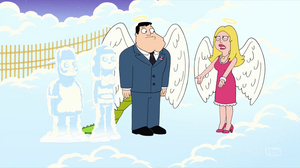 Stan finds himself in Heaven instead of his usual haunt, but decides to make the best of it. But when a furious Francine arrives and dumps him for getting them killed, he decides he has to get them back to living. He is directed to Hell where contestants vie to escape to Heaven on an obstacle course. Realizing it isn't the solution he's looking for, he offers his soul to the devil in exchange for getting to return to life with Francine. There, he takes a new interest in staying as healthy as possible to live longer, as well as taking up physical training to beat the obstacle course that awaits his return to Hell.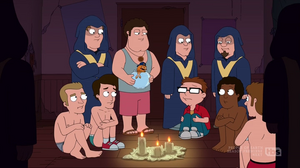 Meanwhile, Steve expresses concern over missing the school college fair, so Klaus takes Steve to Arizona State University for a college visit, where he is hazed by Klaus' old fraternity. He tries to escape, but is caught and returned by security, who also happens to be the dean as well as a fraternity brother. After a week of imprisonment, Steve is rousted by Klaus who informs him that he has graduated from the college for answering a single question in science class, becoming valedictorian as well, during which his speech earns him a Ph.D and five Bud Ices.