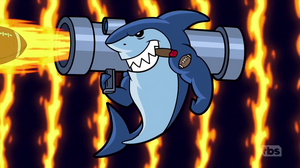 The Langley Falls Bazooka Sharks is an expansion Arena League Mid-Atlantic Conference football team awarded to Langley Falls in "Roots".
Although most of the town is happy to have finally joined the ranks of such cities as Wilkes-Barre, Harrisburg and Wilmington, some business owners such as Olman Hansen find that their shops are slated for demolition for the arena, the Shark's Nest.
Stan Smith originally supports the new team until he discovers that a tree that he has come to regard as a "father figure" is also set to be destroyed. Struggling to find a way to save it through multiple contractors, he climbs the tree and refuses to come down until it is saved. Mr. Hansen things that is a great idea and starts for his store, only to see it knocked down. Dwight the Great White, the Bazooka Sharks mascot, offers him a temporary tattoo as consolation.
As Stan announces his love for the Bazooka Sharks in "Garfield and Friends", a passing car answers his cheer.
Stan and Hayley get stuck behind the Bazooka Sharks victory parade in "Standard Deviation".
Steve becomes an outcast in town when he convinces Juan 'Johnny Concussion' Consuelo, the team quarterback to quit in "Bazooka Steve".
Stan ditches eating healthy with Francine at Le Leaf in "The Life and Times of Stan Smith" to check on the car which is covered in Bazooka Sharks bumper stickers, noting that they are in an area of Wilkes-Barre Cyber Moles fans.
Thieves kill team owner Cyrus Mooney, intent on breaking into his safe in "The Long Bomb". As a precaution against being stopped, they placed bombs around the arena. Stan discovers one and kills one of the thieves. Hayley is captured, but manages to provide him with more locations. Just as he has stopped them all, Hayley gives herself away and Stan is forced to surrender himself for her, where they find that the leader of the gang is none other Johnny Concussion, intent on stealing back his final game jersey after nearly being fired due to his brain damage.
A Bazooka Sharks T-shirt is for sale at Langley Falls Airport in "An Irish Goodbye".
Parker is a Bazooka Sharks fan in "Pride Before the Fail".
Francine attends a Sharks game with the Moms' Club in "The Hand that Rocks the Rogu".
Community content is available under
CC-BY-SA
unless otherwise noted.