The Kidney Stays in the Picture
Stan suspects he's not really Hayley's father.

Season: 7 Episode: 16
Total Episode Count: 131
Prod. no.: 6AJN22
First Aired: April 1, 2012

Guest Starring: Kathy Griffin, Nathan Fillion
Featuring: Stan Smith, Francine Smith
Also Appearing: Hayley, Klaus, Steve, Roger, Jeff Fischer, Snot, Duper, Avery Bullock, Dr. Barker, Dr. Weitzman, Quackenbush, Kelly Wilk, George & Joe Kidney, Joel Larson, Perry, Dave, Fozzie Bear, Deaf Teddy, Robby
Musical Numbers: Take It Back

Director: Pam Cooke, Valerie Fletcher

Writers
:
Rick Wiener
,
Kenny Schwartz
Storyboarders
:
Casey Coffey
,
Brian Mainolfi
Roger's Disguise
: Moonshiner from "
For Whom the Sleigh Bell Tolls
"
Plot
: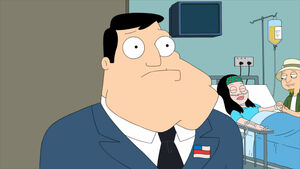 When Francine wants to tell people about a bagel she ate, Hayley attempts to show Francine how to look up people on the computer to spread the word, Francine mentions her old friend Kelly. Stan forbids Hayley to look up Kelly, citing her reputation for making people drink so much their kidneys shut down. Hayley looks her up anyways and the three have a girls night out. Despite Hayley being under-age, Kelly encourages her to drink with her and Francine at Buffalo Crazy Wings. Desperate to keep up with Kelly, Hayley manages to drink herself sick and ends up in the hospital with severe kidney damage. Francine is unable to donate as Kelly had previously killed one of Francine's kidneys during a tequila pounding contest. Stan offers to give her one of his kidneys but Francine hesitates and reveals that Stan may not be Hayley's father after a fling right before their wedding. When the hospital refuses to expedite their testing to see if Stan is a match, Francine suggests that Stan may indeed be the father.
Meanwhile, Roger shares hospital updates with Steve and turns it into a horror story of Steve needing to donate.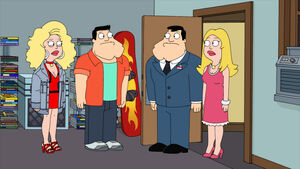 Wanting to discover the truth, they use CIA technology to try to find out Hayley's real father. When they reveal they have a time machine, Francine and Stan head back to the past to meet up with themselves at The Button, the nightclub where Francine met Hayley's potential father. Stan tries to remain focused while Francine reminisces. As they meet young Francine, they spot her heading off to make out with Joel Larson but Stan interrupts them and Francine tells him he may have just upset history, leaving Stan to try to get her hooked up with the guy again. As young Francine heads off to young Stan, Stan and Francine confront their younger selves. Young Francine hesitates to cheat on Stan again without being drugged. Stan realizes that Roger gave him the formula for Ecstasy earlier and head off to get drugs for Francine.
After getting the drugs, they dope Francine out of her mind and get her set up with the would-be beau. Back in the present, Stan has a kidney from Francine's date and instructs the doctor to take one of his own as well and not tell him which one he used, keeping Hayley's true father a secret. The doctor questions how they got the other kidney and it's revealed that Roger took the other kidney from the unwilling beau as a payback for giving him the formula for ecstasy.