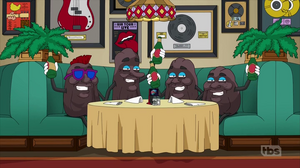 The California Raisins are a fictional rhythm and blues musical group as well as advertising and merchandising characters composed of anthropomorphized raisins that were a staple of 80s advertising and television. Animation for The California Raisins was principally through claymation, as well as traditional cartoons. A CBS special entitled Meet the Raisins! provided the band members more personality and individual names: A.C., Beebop, Stretch, and Red.
While stopping for a break at Planet Hollywood in a secret underground 80s section of the Langley Falls Shopping Mall in "The Devil Wears a Lapel Pin" where they can use Roger's new Discovery credit card, the Raisins buy Roger, Steve and their guide drinks. As the guys salute them, the Raisins note that they are cursed to live forever.
Community content is available under
CC-BY-SA
unless otherwise noted.