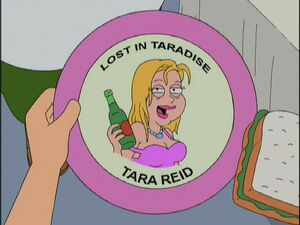 Tara D. Reid (born November 8, 1975) is an American actress. She is known for her roles in the films The Big Lebowski, Urban Legend, American Pie, American Pie 2, Josie and the Pussycats, National Lampoon's Van Wilder, My Boss's Daughter, and Alone in the Dark and in the television show Scrubs.
Roger reads a gossip magazine featuring an image of Tara drinking a gallon of vodka and buying morning after pills in "Star Trek".
She appears on one of Stan's Franklin Mint Collector's Plates in "With Friends Like Steve's". The plate is later destroyed by Barry while he is off his medication to frame Steve in order for Barry to replace him with his family.
Tara is one of the possibilities in the CIA "Death Pool" in "It's Good to Be the Queen".
Stan claims to feel like Tara on an average Tuesday after being splashed with thousands of gallons of milk he believed to be sperm in "Iced, Iced Babies".
While riding home on a bus and worrying about having done nothing with her life in "National Treasure 4: Baby Franny: She's Doing Well: The Hole Story", Francine and Steve encounter a drunk girl that makes Steve question if she is Tara Reid.
In "Top of the Steve" Stan gets two ticket's to "Taradise," Tara Reid's illegal lion sanctuary for himself and Steve, only to discover that latter ran away.
Community content is available under
CC-BY-SA
unless otherwise noted.