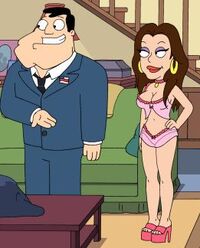 Tanqueray is a stripper that Stan Smith picks up from XanaBoobs in "G-String Circus" to run his dry cleaning business idea; thereby showing Hayley she made a mistake by not taking his advice. When the business proves to be a failure, she goes back to stripping to help Stan pay back all of the money he put into the business. At the end of the episode she moves on going to try for Playboy as a writer, but first tells Hayley she should be grateful to have a father devoted to helping her out. Francine believed that she stole her jewelry and the good silver; however, in actuality Stan pawned it to try and save his business.
She walks out of the hotel elevator in "The Return of the Bling" when Stan and Roger arrive and has a crowd scene cameo in "100 A.D." where she dies in the bus crash. She returns in the episode recap in "Son of Stan".
Tanquerray is voiced by Kat Dennings.
Community content is available under
CC-BY-SA
unless otherwise noted.