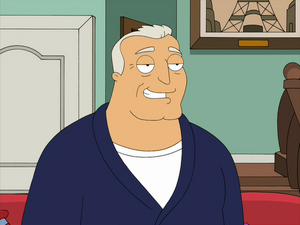 Tank Bates is the father of Terry Bates. A fictional all-star fullback for the Washington Redskins, he shows up for his jersey retirement ceremony in "Daddy Queerest". However, he is unaware that his son is gay. When he finds out, he cuts his ties to Terry, unable to accept that he is gay.
Previously, Greg Corbin tried to goad Terry into telling his father he was gay in "Homeland Insecurity", which Terry reluctantly agreed to do at Thanksgiving. Terry also vows to wear Greg's ring when his father dies.
In "Roger 'n' Me", Greg notes that Tank only considers the pair "Best Buddies."
He is referenced in "Stanny Slickers 2: The Legend of Ollie's Gold" when Hayley asks Terry about his father, causing him to cry.
In "Gorillas in the Mist", Tank sees his son on television but denies it's him, claiming to a bartender that an Indian kid in another television show is his son.
He is one of the savage survivors in "The Two Hundred".
Tank is voiced by Kevin Michael Richardson.
Appearances