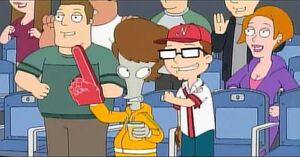 Take Me Out to the Ball Game is a baseball song written in 1908 by Jack Norworth and Albert Von Tilzer. Steve and Roger sing it with the audience during the seventh inning stretch of a Nationals game before Steve remembers what he was talking to Roger about in "I Am the Walrus".
Lyrics
Audience:
...me out to the crowd...
Roger, Steve and Audience:
Buy me some peanuts and Cracker Jack,
I don't care if I—
Steve:
Wait! What're we doing?! I wanna talk about my dad!
Community content is available under
CC-BY-SA
unless otherwise noted.