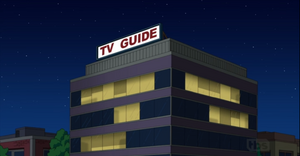 TV Guide is an American magazine that provides television program listings information as well as television-related news, celebrity interviews and gossip, film reviews, crossword puzzles, and, in some issues, horoscopes.
When Stan is unable to find any programming information on a television show called Nighthawks Hideaway that he found on an old television that was being thrown away in "Rabbit Ears", he visits TV Guide in order to find out about it directly. However, the editor denies that any such show exists, but concedes that occasionally someone will inquire about it. He directs Stan to the Ukrainian Cultural Center where a support group meets to discuss the show. While Stan insists that he did see the show, he shares and even exceeds the editor's disgust with the 'nutjobs.'
Community content is available under
CC-BY-SA
unless otherwise noted.