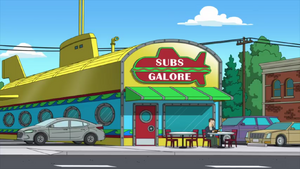 Subs Galore is where Stan finds an old classmate working in "Into the Woods".
When Stan and Roger stop for sub sandwiches, he spies Tommy Schuler, whom he abandoned when they were picked on by bullies. He decides to set things right, although has to take Francine along for support when Roger bails out, claiming to feeling an illness coming on. But when Stan delivers his grand apology, Tommy doesn't even remember who he is.
Continuing to blame himself for making Tommy a 'loser', he tries to set him up for an executive job but blows the deal, and to make matters worse, Stan had burned down the sub shop so he couldn't go back. Having enough of Stan's antics, Tommy reminds him that he was the one who bailed on Stan, who suddenly feels like a loser himself. Francine decides to hold a middle school reunions to let Stan see that he's not the biggest loser, although he comes up short against his classmates including Tommy, who admits he owns the entire sub chain.
Community content is available under
CC-BY-SA
unless otherwise noted.