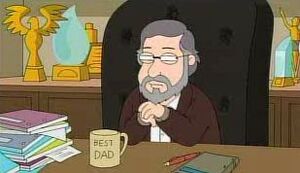 Steven Allan Spielberg, KBE is an American film director, screenwriter, and film producer. In a career spanning over four decades, Spielberg's films have touched on many themes and genres. Spielberg's early sci-fi and adventure films sometimes centering on children, were seen as an archetype of modern Hollywood blockbuster filmmaking. In later years his films began addressing such issues as the Holocaust, slavery, war and terrorism.
A robot of Johnny Depp decides to drop a film for Spielberg in favor of one for Tearjerker in "Tearjerker".
He appears in "Don't Look a Smith Horse in the Mouth" in which he appears to know Roger. It is implied that Roger is actually the inspiration for the alien in Spielberg's film E.T. the Extra-Terrestrial. It is also revealed that Spielberg also owns a talking horse.
Roger refers to Spielberg as a "Jewish nerd" along with Adam Sandler and David Schwimmer in "Santa, Schmanta".
Community content is available under
CC-BY-SA
unless otherwise noted.