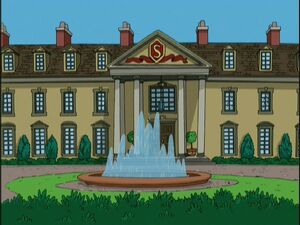 Steveadoo is Steve's mansion in "Star Trek". When he becomes a successful author, he is convinced by his manager Kevin Broham to divorce his parents. Steve invites his friends and hangers-on to join him but soon becomes paranoid and demands everyone leave. Upset with Steve for portraying him as 'Roger the Clumsy Alien' in his book, Roger tries to kill Steve but accidentally kills Steve's planned movie double Spike Baltar in the pool filled with cherry jello instead.
Community content is available under
CC-BY-SA
unless otherwise noted.