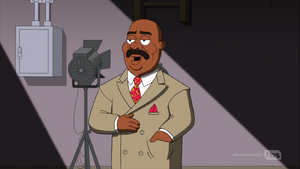 Broderick Steven "Steve" Harvey (born January 17, 1957) is an American actor, comedian, entertainer, television and radio personality and best-selling author. He is best known as the star of the WB sitcom The Steve Harvey Show, and as one of the four comedians featured in the Spike Lee film The Original Kings of Comedy. Currently, he is the host of the nationally syndicated radio program The Steve Harvey Morning Show, and the current host of the television game show Family Feud.
In "Old Stan in the Mountain", Steve finds an aged Stan with a knife that Stan intended to stab Steve with after he believes he and Hayley are out to kill him on Mount Kilimanjaro. Steve misinterprets Stan's intentions and thinks he was out to whittle some wood and carves him a totem of five of the hosts of Family Feud including Richard Dawson, Ray Combs, Louie Anderson, Richard Karn and Steve Harvey but omitting John O'Hurley.
In "Ninety North, Zero West", Jack Smith/Krampus believes that Santa Claus has kidnapped Steve Harvey, instead of Steve Smith.
When Stan strikes out telling Roger a joke from Steve Harvey's Jokes for Every Occasion in "Stompe le Monde", he ends up tossing the book in the trash.
In "300", the Smiths lose their chance to be on Family Feud when Roger destroys their application. When they kick him out of the house, he runs into the Knights Turdlar, dedicated to destroying The Golden Turd which results in Roger being shattered into 300 pieces which are then scattered around the world. The Smiths travel together up the pieces, with the last one being Roger's butthole located at the Family Feud studio. To earn the piece from Steve Harvey, Stan and Roger play the 'Fast Money' round where, despite Roger's dumb answers, they win thanks to Steve Harvey's manipulation of the score. The Turd is ejected from its placement and Harvey grabs it, intending to use its influence to put Family Feud on every channel until he is knocked out by Stan.
Community content is available under
CC-BY-SA
unless otherwise noted.