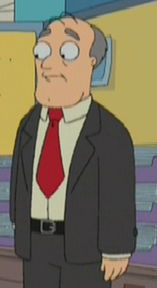 Stephen Root is an American actor. He is principally known for his comedic work, but has won acclaim for his occasional dramatic roles. Among his most recognized television roles are eccentric billionaire Jimmy James on the sitcom NewsRadio and as the voice of depressed Army barber Bill Dauterive and Hank Hill's skirt-chasing boss Buck Strickland (of Strickland Propane) on the animated television series King of the Hill. He had a recurring role on the final two seasons of The West Wing as Republican campaign consultant Bob Mayer. His most recognizable film roles to date are as the mumbling, quirky Milton Waddams in Office Space, as the mild-mannered gymrat Gordon Pibb in Dodgeball: A True Underdog Story, as Suds, a drunk sports writer, in Leatherheads, and as the dimwitted principal in the 2008 Judd Apatow produced comedy Drillbit Taylor.
Stephen plays the recurring role of Dick in the following episodes:
David Koechner took over the role of Dick beginning with Office Spaceman.