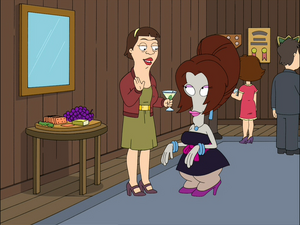 Stephanie is one of the dates brought to the Theta Sigma (ΘΣ) fraternity in "Stan's Night Out".
Roger's persona of Amber receives an invitation to the same party from Tyler who spotted him at the Langley Falls Shopping Mall and he takes it as a complement to his good looks, but when he brags to Stephanie and another girl, he finds they were both invited just that day as well. After looking around at several homely girls, he realizes that the party is intended to see who can bring the ugliest date.
Stephanie also appears as one of the ugly daughters in "Finger Lenting Good".
Stephanie is voiced by Joss Stone in "Stan's Night Out".
Community content is available under
CC-BY-SA
unless otherwise noted.