Star Trek
Roger is overjoyed to discover that Steve's new book is all about him until he finds out that it paints him in an unflattering light.

Season: 1 Episode: 15
Total Episode Count: 15
Prod. no.: 1AJN15
First Aired: November 27, 2005

Guest Starring: Bryan Cranston
Featuring: Steve Smith, Roger
Also Appearing: Francine, Klaus, Stan, Hayley, Snot, Toshi, Barry, Mr. Durbin and Family, Beauregard LaFontaine, Montague, Spike Baltar, Bill Publisherman, Janet Gustafsen, Kevin Broham, Captain Monty, Sulu & Chekov, Patriot Pigeon
Director: Mike Kim
Assistant Director: Jim Shellhorn
Writers: Matt McKenna, Chris McKenna
Storyboarders: Aldin Baroza, Shawn Murray, Scott Wood

Newspaper Headline: "Bush Appoints Stephen King As Ambassador To Terror

Plot: Steve is seen from below floating in a pool of cherry Jell-o.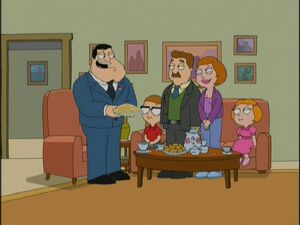 The action shifts to a few weeks ago when Roger was reading Us Weekly and yearning to be a celebrity. Steve tried to trick his father into signing his report card by claiming his teacher wanted Stan's autograph. But Stan doesn't fall for it and learns that Steve is flunking the creative writing class. Steve claims that the main reason he is failing is because Mr. Durbin hates him but Stan learns that it is actually because Steve is having his friends do the work for him.
To inspire Steve, Stan shows him his Patriot Pigeon children's books. Stan has written over 3,000 books and gotten almost as many rejection letters. Stan tells Steve to show his perseverance by continuing his pursuit of creative writing. Then, Stan sits Steve down at a desk and glues his right hand. At this time, Roger comes in and does something clumsy inspiring Steve to write about him.
The creative writing teacher sends Steve's story, Roger the Alien, to a publisher. The publisher buys Steve's story and promises to publish it and give Steve large salaries of money in exchange for selling it in stores. Stan opens the acceptance letter thinking that Patriot Pigeon Poops on Planned Parenthood has been picked up but is frustrated when he learns that it is all about Steve's book.
Steve quickly becomes a success. Soon Stan and Francine proceed to use him for their own needs. Distraught, Steve is convinced by his new agent to divorce his parents and moves into a mansion with his best friends. But eventually he comes to distrust his friends, too, and kicks them out of the mansion. Steve's agent shows up with Spike Baltar, an actor who will play Steve in the movie.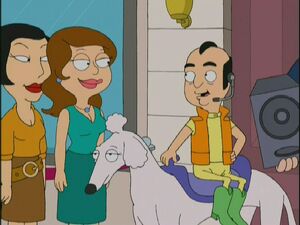 Back home, Roger opens a shipment of Roger talking dolls and becomes enraged that Steve's book portrays him as clumsy. Roger goes to the mansion and attempts to kill Steve but instead kills Spike Baltar by tossing him into a pool of cherry Jell-o. In a voiceover, Steve admits the opening scene was a ploy. Faced with being arrested for Spike Baltar's death, he returns to his family, who dump Baltar's body in a swamp.
Meanwhile, Francine needs a new hairdresser and goes to a new salon for Beauregard LaFontaine but is rejected until Steve's book becomes a success.

Community content is available under
CC-BY-SA
unless otherwise noted.