Stannie Get Your Gun
Hayley accidentally paralyzes Stan when she fires a gun she thought was loaded with blanks.

Season: 1 Episode: 14
Total Episode Count: 14
Prod. no.: 1AJN14
First Aired: November 20, 2005

Guest Starring: Beau Bridges, Jill Talley, John Carroll Lynch, Elias Koteas
Featuring: Stan Smith, Hayley Smith
Also Appearing: Francine Smith, Roger, Steve, Klaus, Terry Bates, Greg Corbin, Susie, Bobby the Bullet, A.C.L. Lou, Mr. Simms and Mr. Hobart, Mike Barker, Duper, Eric, The Madsens
Musical Numbers: Guns Make Holes in Your Body, I'd Like to Teach the World to Sing (In Perfect Harmony), I Want a Gun for Christmas

Director: John Aoshima

Assistant Director
:
Anthony Agrusa
,
Eric Fredrickson
Writers
:
Brian Boyle
Storyboarders
:
Bob Bowen
,
Harry Sabin
Newspaper Headline
: "Big Bird Dead Of Big Avian Flu"
Plot
: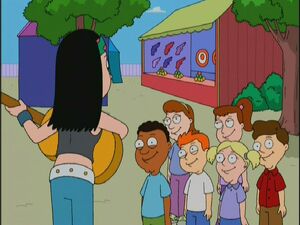 Francine is tired of Stan and Hayley's constant bickering. One of the many things they disagree on is gun control. Stan takes Hayley to NGA Land, which used to be Sugarland Mountain but is now owned by the National Gun Association. There Hayley makes a scene by singing an anti-gun song, getting her and Stan thrown out. The NGA says that Stan can come back if Hayley apologizes, which she says will happen when pigs fly.
Stan stages a robbery so that Hayley has to use a gun to save the family. Hayley shoots the robber but feels conflicted afterwards, until she learns there was no robbery. It was a ploy to get her to apologize so Stan can go back to Gunland. Angry, she grabs Stan's gun with what she mistakenly thinks are blank rounds and shoots him in the neck, rendering him quadriplegic.
Destroyed by guilt, Hayley agrees to help Stan by singing appalling pro-gun songs at NGA Land. At the break, Francine sees what the trauma has done to Hayley and inspires Stan to rethink. For the encore, Stan defies the park's management and the pair sing Hayley's anti-gun song instead. Because of their song, everyone decides that guns are bad. The old Gunland mascot shows up with the intention of killing Hayley to get his job back. Stan takes the bullet meant for his daughter, and, miraculously, the second bullet dislodges the first bullet, and Stan recovers completely, declaring that "guns heal the sick."
Meanwhile, Roger gets mad at Steve for stealing his cookie that he made. Driven mad by Steve's declaration of "snooze, you lose," he sets out to gain revenge on Steve by convincing him that he was adopted.
He starts out small by pointing out the minor differences between him and his parents. As the show progresses, Roger's tactics become more demented, even going so far as to destroy all the photos and videos of Steve as a baby. Steve is eventually convinced, and vents out his frustrations on his paraplegic father (pushes a book case on top of him).
As Hayley is talking to Stan, Steve bursts in, and in a fit of rage, knocks over a bookcase onto Stan. Hayley is shocked and asks Steve what he thinks he's doing. Steve coolly replies, "Something we've both been wanting for a long time!" and proceeds to make out or french kiss his own sister.
Roger searches the FBI database looking for a child that fits Steve's profile, and sends him to a couple whose son was kidnapped when he was an infant. Roger insists that they are his real parents, and coaxes him into wearing a lil' sailor outfit. Steve greets the family enthusiastically, and they are overjoyed at the return of their "son." When Roger exposes his ploy, Steve congratulates him on organizing such a clever ruse.
As the episode ends in Stan's hospital room, Hayley sits in Roger's seat and declares "Early bird gets the worm," implying that Roger might one day seek revenge on her as well.