For a complete script, see: "Stan Time" on the Transcripts Wiki
---
Steve: When will you people realize that ROBOTS ARE EROTIC??!!
---
Stan: [after taking the pills] I feel so...not wired, but...well-rested, like I had a small coffee around 6:30 at night. I'm feeling good!
---
Phillipe: [with heavy French accent] Mr. Francine, I know this must be upsetting. But understand I am a homosexual, yes?.... You understand "homosexual"? ...Yes?... So you will be loosing your wife not physically, but, perhaps, emotionally. [walks into kitchen, Stan sits down on the couch]
Klaus: That guy is a douche, yes? You understand "douche"?....Yes?...
---
Phillipe: Tu vas etre célèbre!
Francine: "Phillipe, tu sais que ce n'est que le science qui m'interesse."
Stan: You speak French now, too?
Francine: "Un petit peu."
---
Stan: Is that the name of the article? 'Cause it's long!
---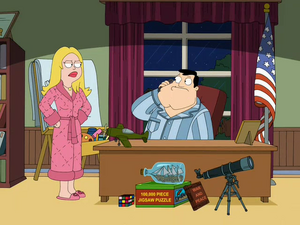 Stan: [on the phone with Dick] This time is like a gift from the Heavens. The last thing I want to do is waste it with my kids or, God forbid, Francine. [he sees Francine glaring at him] Hey, Dick, do those pills make you hallucinate your wife? Damn! Do they let you go back in time to change the past? Damn! Do they make you fly? Really, but only once? All right, I'll save it for Halloween. I'm going as a turkey. Yes, they do. Yes, they do. Yes, they do. Well, then I'm gonna have to change my costume. [to Francine] Bad news about Halloween, Francine.
---
Stan: Fine! Good! Now I don't have any distractions. Just 24 hours of uninterrupted Beetman action. Just gonna 'beet' it till my hands fall off!
Community content is available under
CC-BY-SA
unless otherwise noted.