The book Stan tries and later succeeds to read is Tom Clancy's The Hunt for Red October.
Steve mentions "The Chimdale spa" from "Chimdale" when coming up with a movie idea.
Translation of the French spoken in this episode:
Phillipe: Tu vas etre célèbre! ("You are going to be a celebrity!")
Francine: "Phillipe, tu sais que ce n'est que le science qui m'interesse." ("Philip, you know that it is only the science that interests me.")
Stan: You speak French now, too?
Francine: "Un petit peu." ("A little bit.")
"Libiamo ne' lieti calici" by Giuseppe Fortunino Francesco Verdi is played as Francine reads about marine biology.
Stan plays "Sea of Love" by Phil Phillips at the bottom of the ocean.
Dick mentions that in his spare time, he was watching every movie by every actor ever made. He was currently on Martin Mull, who is a recurring guest star on American Dad!. He also mentions that in Clue, Mull's role as Colonel Mustard would've been better if Christopher Lloyd was cast. He was cast in the same film in the role of Professor Plum.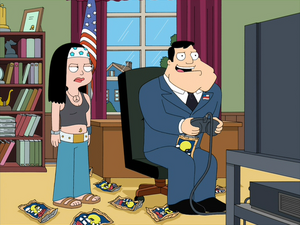 On Stan's whiteboard while Francine is confronting him about the pills is the "Kilroy was here" drawing and a hangman game.
While playing Beetman in preparation for the tournament, Stan snacks on "Pirate's Booty", a puffed rice and corn snack food.
During a song, Stan sang he said he learned how to play the guitar during his new free time, but he already knew how to play the guitar as shown in "Stannie Get Your Gun" and "Chimdale".
At the end of the episode, Stan tells Francine to turn her CB to channel 9; however, CB radios do not work underwater.
This is the final episode composed by Ron Jones, who left production to focus on composing for Family Guy. Jones would subsequently be replaced by Joel McNeely.
Community content is available under
CC-BY-SA
unless otherwise noted.