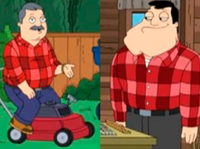 This is the first episode of the series where Steve is absent.
The strip club music includes Rob Base and DJ E-Z Rock's "It Takes Two".
The music playing when Roger and Tyler arrive at the "pig party" is Keaton Simons's "Misfits".
Bernie wears an identical shirt to the one Stan wears at the cabin in "One Little Word".
In keeping with the theme of the "pig party", one of the unattractive girls speaks with a stutter like Porky Pig.
Francine says in the episode that she dislikes Avril Lavigne.
Fernando mentions to Stan that he will shave and sell his amputated leg to Heather Mills. Mills, the former wife of musician Paul McCartney, is an amputee and wears a prosthetic leg.
When Stan makes an excuse to get away from his friends, he mentions that he believes the bathroom is where "they shot Cilantro's El Perro video". Stan then whistles the song on his way to a bathroom. This is a call back to "Roy Rogers McFreely".
The business beside the cigar bar is Bowen's bakery, named after animation director Bob Bowen.
Stan went out on a Thursday night.
Stan says at the end of the episode that "Cheesers came back". Stan's mouse, Cheesers, is also seen living in Stan's jacket pocket in "Live and Let Fry".
Community content is available under
CC-BY-SA
unless otherwise noted.