Stan's Best Friend
Francine buys Steve the dog he's always wanted.

Season: 7 Episode: 14
Total Episode Count: 129
Prod. no.: 6AJN20
First Aired: March 18, 2012

Guest Starring: Joe Lo Truglio, Kristen Schaal, Amy Sedaris, George Segal, Andrea Martin
Featuring: Stan, Steve, Francine
Also Appearing: Roger, Klaus, Hayley, Jeff Fischer, Kisses, Dr. Lizzy, Bernie, Freddy, Snot, Dreidel, Jack Smith, Betty Smith, Patricia, Trish & Penny
Musical Numbers: Wheel in the Sky

Director: John Aoshima, Jansen Yee

Writers
:
Jonathan Fener
Storyboarders
:
Eric Fredrickson
,
Megan Kelly
Roger's Disguise
:
Francine
from "
Best Little Horror House in Langley Falls
"
Plot
: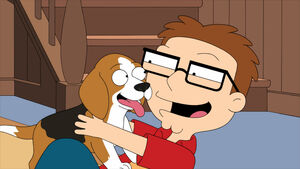 When Steve does his regular nagging for a dog, much to Stan's annoyance, he reminds Francine of when Stan's father left, his mother tricked Stan into killing his dog Freddy. But when Francine gets him one named Kisses anyways, Stan reluctantly accepts it. Unable to sleep, Stan gets up to watch some TV and Kisses decides to join him and Stan becomes attached himself.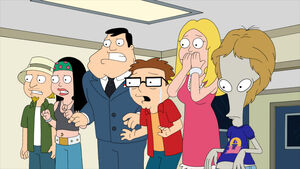 But when a hot air balloon full of pirate cats lands on Kisses, crushing him, Stan takes him to a vet that can only keep him barely alive. Francine tries to talk Stan into letting Kisses go but Stan refuses to allow another dog to die. Desperate to have Kisses active again, Stan tries to study how to fix Kisses on his own at the library but all he is able to do is find a flyer for Dr. Lizzy's alternative pet care. Stan takes Kisses to Dr. Lizzy who ends up creating a monster, sewing Kisses' eyes where his testicles used to be, among other unnatural "improvements". The family is horrified as Stan wants to hang on to his dog until the spirit of Freddy tells him it's ok to let Kisses go. Stan sends Kisses off to Heaven with a bang, blowing him up with dynamite where Freddy introduces him to cute female dogs and monsters that have to be destroyed.
Meanwhile, thinking about Kisses own mortality makes Jeff and Hayley start thinking about a will. At Bernie the lawyer's, they don't think they have much to worry about until Jeff reveals he was a multimillionaire widower with a step-daughter named Patricia and a former cook for the band Blues Traveler and owned the rights to their first album. However, he gave the rights to his step-daughter as a fiftieth birthday present. Hayley insists they get them back. But when they take their lawyer Bernie to Patricia's house to force the handover of the album master tapes, he ends up proposing to her for her money. Patricia's happy just to have a chance for some sex. As Hayley is aggravated at letting the money slip though her fingers, Jeff offers to pay for Patricia's and Bernie's wedding.