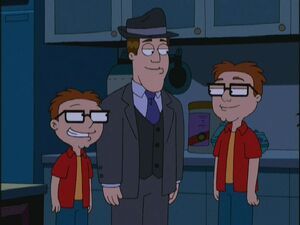 Spike Baltar is Steve's planned double for the movie version of Steve's book Roger the Alien in "Star Trek".
Upset with Steve for portraying him as 'Roger the Clumsy Alien' in his book, Roger tries to kill Steve but accidentally kills Steve's planned movie double Spike Baltar in Steve's mansion Steveadoo in the pool filled with cherry jello instead. When Steve's manager Kevin Broham sees the body, he bolts on Steve, leaving him to deal with the consequences. Steve gets back together with his parents who help him dispose of Spike's body.
Spike is voiced by Eddie Kaye Thomas.