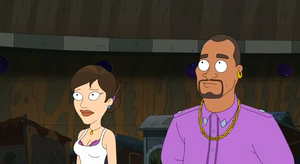 David Adkins, better known by the stage name Sinbad, is an American stand-up comedian and actor. He became well-known in the late 1980s and 1990s, appearing on several television series and starring in the family-friendly films Houseguest, First Kid, and Jingle All the Way.
Sinbad appears as himself in "Lost in Space" as a slave in a giant space mall for Roger's people. After Jeff Fischer is captured, he shows him around the slave camp and takes him to EmBARcaderos, where Jeff finds out the only way to escape his fate is to prove his love for Hayley, although Sinbad points out that the price of failure is losing his privates as Sinbad had done. Jeff tries anyway but apparently fails the test of The Majestic until he realizes that only bad memories were shown. He confronts The Majestic and it reveals that it was ordered to show only bad memories after Emperor Zing lost his own love. Jeff and the slaves start a revolt and with Sinbad's help, Jeff makes his way to an escape pod as The Majestic reveals the Emperor's own love life that was ruined by Roger cheating on him. The rest of his people join the rebellion against him, leaving only his own guards to fight for him. Sinbad sends Jeff on his way while holding off the guards at the cost of his own life. Unfortunately, Jeff finds out that he must explore thousands of worlds to find the right Earth. It's revealed at the end that Sinbad came back as a Jedi-like ghost to join Jeff in his journey.
He and Jeff continue to try to find a way home in "The Longest Distance Relationship".
Sinbad's ghost also appears in "Holy Shit, Jeff's Back!".
Sinbad also appears during "Everyone is Happy in Utopia" in "300".
Community content is available under
CC-BY-SA
unless otherwise noted.