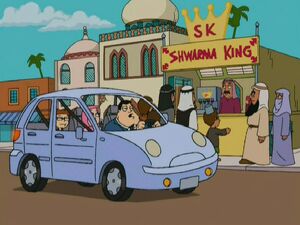 The Shwarma King is a fast food kiosk in Saudi Arabia seen in "Stan of Arabia: Part 1" and "Stan of Arabia: Part 2". A shwarma is a Middle Eastern and Southeastern European sandwich-like wrap of shaved lamb, goat, chicken, turkey, beef, or a halal mixture of meats. The meat is placed on a spit, and may be grilled for as long as a day. Chunks of fat within the meat ensure that the shawarma stays juicy. Shawarma is a fast-food staple across the Middle East and North Africa.
Shawarma is eaten with pita bread, tabouli, fattoush, taboon bread, tomato and cucumber. Toppings include tahini, hummus, pickled turnips and amba.
Shawarma is a version of döner kebab and is thus similar to gyros.
Community content is available under
CC-BY-SA
unless otherwise noted.