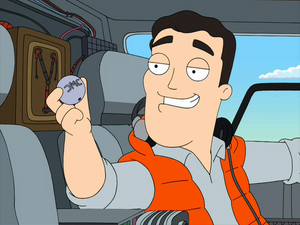 Mr. Shawn Ian Kirkoff is a driver of a Delorean that needs the same door as Stan in "Delorean Story-an". When Stan and Steve encounter Mr. Kirkoff, they have a race to get the part but are stopped by the police. When they try to resume, Stan finds out that Mr. Kirkoff also stole his gear-shift knob. Steve recovers the knob during a high-speed chase and they beat Mr. Kirkoff to the door. Stan decides that bonding is more important than the door and lets Mr. Kirkoff have it. While Stan's DeLorean appears to be factory stock, Mr. Kirkoff's is modeled after the DeLorean Time Machine from the end of Back to the Future / Back to the Future II. In addition, Mr. Kirkoff's clothing is styled after Marty Mcfly in the original Back to the Future film.
He has a crowd scene cameo in "100 A.D." where he was killed in a bus crash along with 96 other characters. He returns in the episode recap in "Son of Stan".
Shawn is in Roger's persona of Tom Yabo's yoga class in "American Stepdad" and is seen at Brenda and Theo's reception in "The Boring Identity".
He also appears as one of the residents of Ragi-Town in "The Enlightenment of Ragi-Baba".
Mr. Kirkoff is voiced by and also modeled after Shawn Kerkhoff, who is a sound editor for Fuzzy Door Productions.