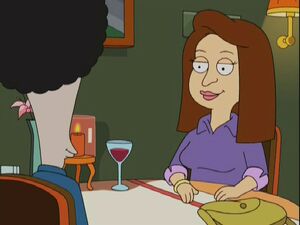 Sharri Rothberg is the girl Roger dupes into almost marrying him to get a new blender in "An Apocalypse to Remember".
When his old blender dies, Roger finds out through Klaus that couples can register for gifts when they get married for people to know what to get them. Roger goes on the Jdate web site to find a lonely Jewish girl and meets Sharri. Sharri's "Jewish Princess" side comes out while registering for their gifts at Crate and Roundish Cylinder, becoming pushy and demanding. On their wedding day, Roger dumps Sharri after he receives the blender he wanted. She gets to marry Buckle, the mountain man that followed the Smith's home from the woods intent on marrying Hayley and proceeds to make his life miserable though she does indeed have feelings for him.
Buckle and Sharri perform a magic act for the CIA torture fundraiser in "Phantom of the Telethon".
Sharri is one of the contestants at the pie baking competition at the Langley County Fair in "Every Which Way But Lose".
Buckle and Sharri are present when Stan and Francine attempt to renew their wedding vows in "Shallow Vows".
Buckle and Sharri host a pool party to celebrate their moving into the neighborhood in "An Incident at Owl Creek".
She has a crowd scene cameo with Buckle in "100 A.D.".
In "Best Little Horror House in Langley Falls" she makes an appearance arguing with Buckle before driving off to get her nails done.
In "Hurricane!", she and Buckle try to save the Smith family from a flood caused by the breaking of Lower Langley's sea wall but ended being washed away instead. Buckle appears later in the episode to save Stan from himself although.
Buckle and Sharri attend Tuttle's eclipse party in "Stan & Francine & Connie & Ted". She also appears during "Everyone is Happy in Utopia" in "300".
Sharri is voiced by Lisa Edelstein.
Appearances