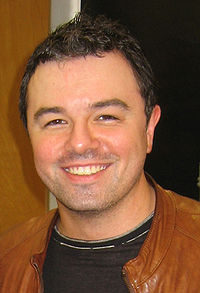 Seth Woodbury MacFarlane (born October 26, 1973) studied animation at Rhode Island School of Design where he met co-executive producer and cast member of Family Guy, Mike Henry, which would ultimately lead to the setting of Family Guy, taking place in the fictional Quahog, Rhode Island. He worked for Hanna-Barbera Productions on shows such as Johnny Bravo and Cow and Chicken. He created two short cartoons that paved the way to Family Guy, that bore a striking resemblance to Family Guy itself, titled The Life of Larry, and Larry and Steve. MadTV recognized his work and helped MacFarlane get into connection with Fox executives, and Fox gave him $50,000 to make Family Guy. Seth received an Honorary degree in Fine Arts from Harvard on June 7th, 2006.
Seth MacFarlane's voices include:
Notes
Seth attended the same art school, The Rhode Island School of Design, as Shepard Fairey who created Obey Giant.
Seth is a huge Star Trek fan and appeared twice in minor roles on Star Trek: Enterprise.
Seth's normal speaking voice is identical to Brian Griffin's. In his voice acting, he said that reading for the role of Stan Smith is the most demanding.
MacFarlane directed/co-produced/co-wrote and starred in his first feature-length film Ted, which was released in Summer 2012 and received an Academy Award nomination. [1]
The catalyst for "American Fung" is that when MacFarlane gets bored with American Dad!, he trades the show to Chinese billionaire Fung Wah for a shoe factory.
External Links
Community content is available under
CC-BY-SA
unless otherwise noted.