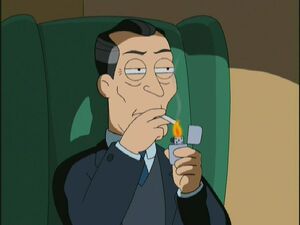 Sergei Petkov, Europe's greatest serial killer profiler, is charge of the operation 'Tears of a Clooney', an effort to help Francine get revenge on George Clooney for him stealing her scene in a television show. He tells Francine everything to know about Clooney; He is completely in love with himself, so she must become him; he believes in love at first sight; finally, she must resists his charm. "Men and women have all gone up his butt until their sucked inside. But if she stays out of his butt, he'll pursue you up yours", demonstrated by a diagram. When think think they have George right where they want him, Sergei shows Francine that they installed hidden cameras in Clooney's hotel room but they reveal Stan betraying her.
Sergi also has a cameo in "Phantom of the Telethon" and at Stan and Francine's second wedding in "Shallow Vows".
Sergei is voiced by John DiMaggio.
Community content is available under
CC-BY-SA
unless otherwise noted.